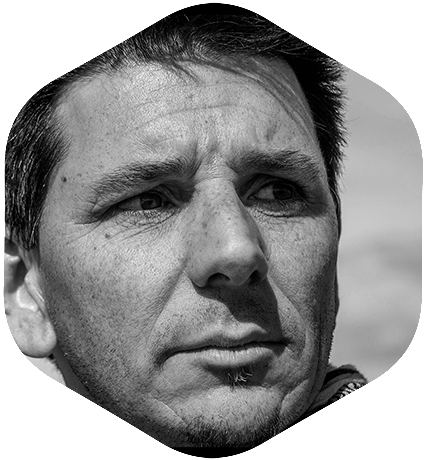 Patrick Loubet
Senior UX designer
Promotions
William Hill's Global Components
Introduction
William Hill's Gaming suite is composed of 8 products (Vegas, Casino, Games, Live Casino, Scratchcards, Bingo, Poker, Macau). Each managed in a silo with its Business owners, Product owners, Product Manager and Business analysts and Developers. The result being, numerous broken journeys, usability issues and some great inconsistencies across the brand.
The UX department decides to resolve the situation and offers better users' experience, by creating a set of standardised components that will be, at first, used on their best sellers ( Vegas, Casino, Games, Live Casino) and then applied to the rest of the brand.
In the promotions' case, historically, Marketing was usually driving the implementation without consulting other teams. So to undertake this project, we created a multidisciplinary team which goal was to improve users journey from end to end.
Define
The team gathered to identify the key interlocutors, the target users, review the timeframe, the known issues, the company values, set the end goals (KPI's), and decide on the methodology to use.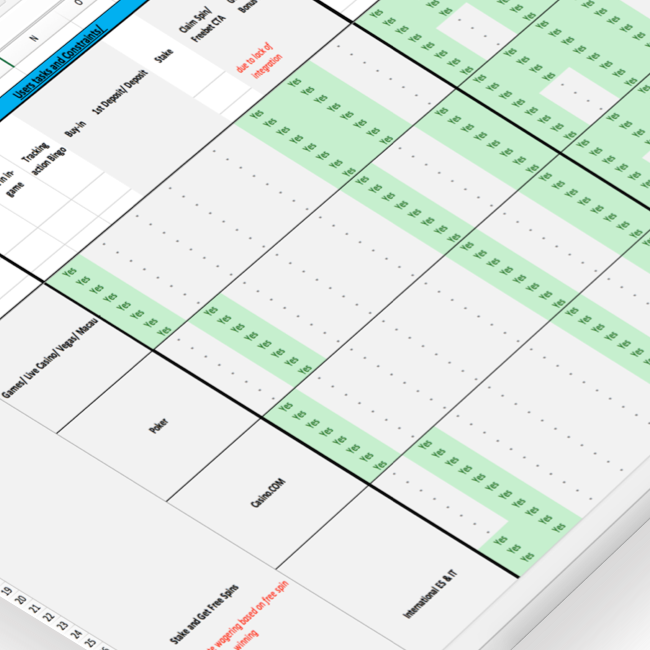 Research
For this phase, I have evaluated the existing across the brand using technics such as :
Expert review and heuristic evaluation,




Usability testing and face to face interviews using one of our big quarter promotion which lasts for a month,




Data analysis, I have also asking Web Analytics and Bonus Wallet teams to include some new end to end data to understand users behaviour better.




Users' journeys map working with the most

knowledgeable

team on that matter (Bonus Wallet).



Moreover, I have done competitor's analyses of the gambling industry but also into other ones.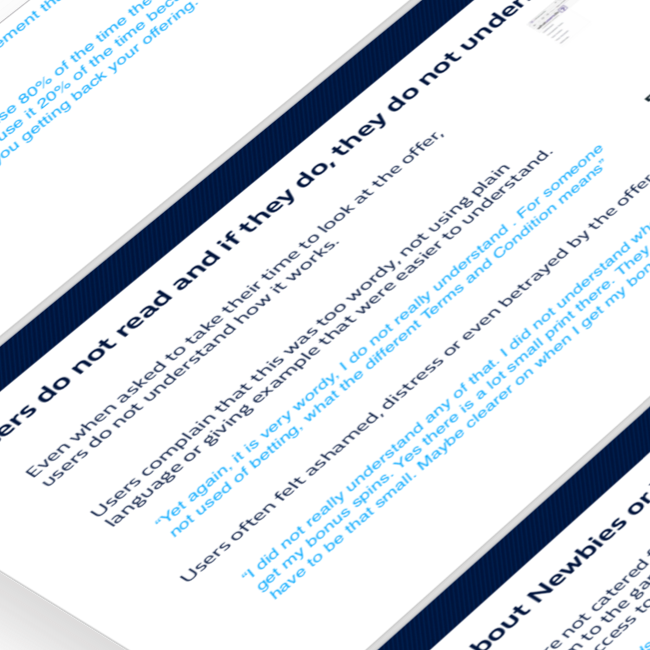 Analysis
We have highlighted the following pain points:
The users scan the offers more than they read them.




In the current situation, most of the time they do not understand what they are requested to do, even after reading the Terms & Conditions, they end up by calling service desk.



The Key Qualify Components (KQCs) are not readable due to font size and poor contrast.

The Journeys are broke due to technical constraints or lack of overview during promotion creation.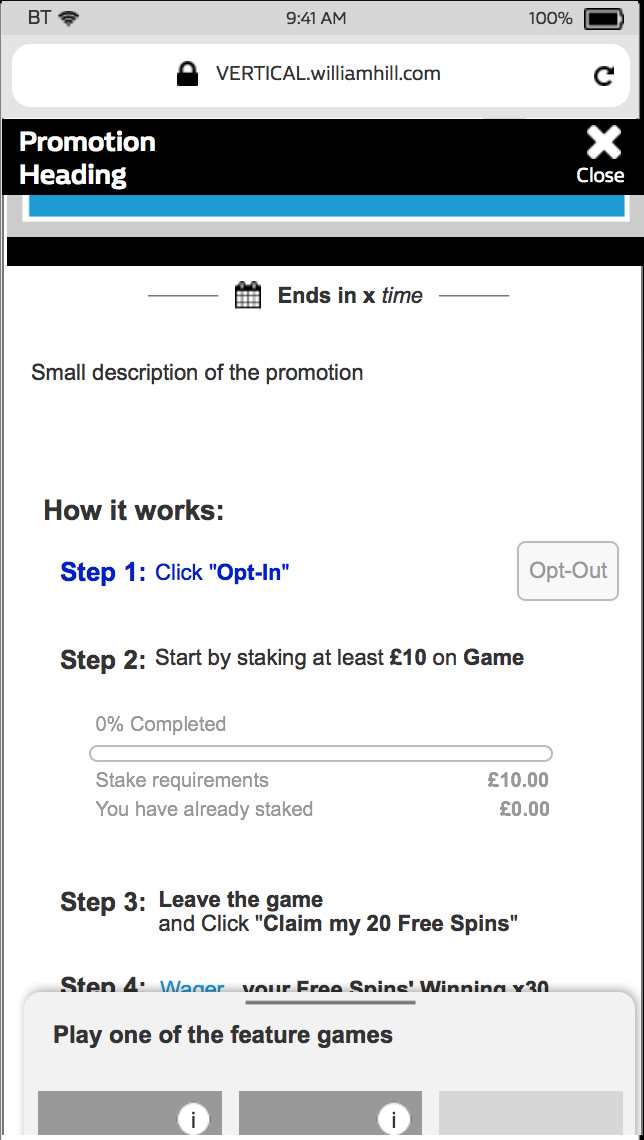 Design
I have created those hypotheses :
Users want to play, to have for fun. They hate being frustrated by mechanics that are too complicated, too restrictive.



Whatever the promotion type (Free bonus, Buy-in, Draw, etc..) the users look for consistency, and they do not want to have to learn the mechanic again and again.

Users need to be better Handholding thought out the entire journey.




Representing the tasks into a do list format manageable without using too much memory.

Call to Action (CTA) shall be visible all the time and linked to the task to be performed.

Copy needs to simplify and presented in a more readable format.




Fonts size should be at least 12px with a space 1.5x the size of the font.

Contrast test/background should be superior to 4.1:5

Use white space to declutter the page.

Users need to be able to focus only on the promotion description.




No weird transparency

No partial overlay which is leaving visible promotions list or the banner slider.
I have then turned those hypotheses into whiteboard sketches that I have presented to UX, Dev and Campaign planner colleagues, refine several times before creating low fidelity wireframes in Axure.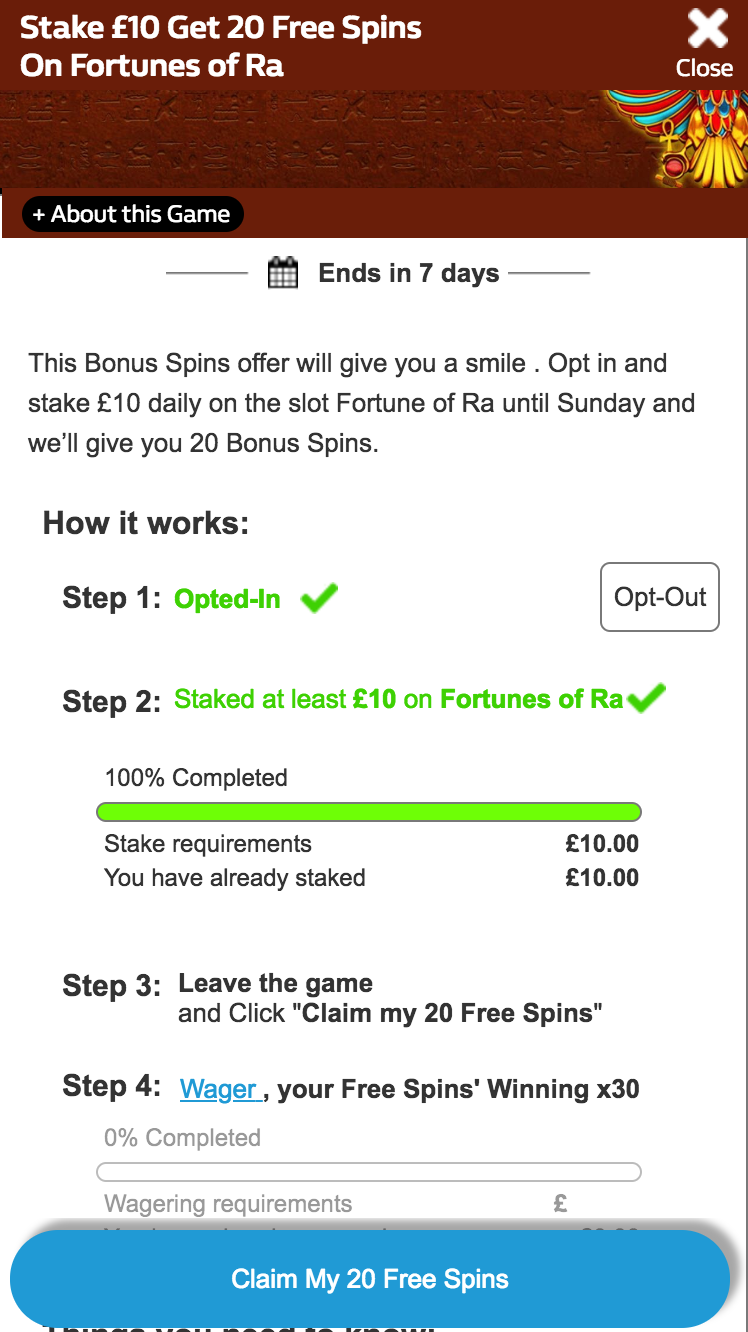 Test
Finally, I have built a high fidelity prototype and run a usability testing with a panel of gamblers via the unmoderated platforms WhatUsersDo.
The journey tested was:
- Find a specific promotion,
- Opted-in to it,
- Go through the steps to validate all the key qualifying criteria (KQC) that are set to avoid fraud and to give to easily free bonuses.
Repeat
Usability testings are pretty successful for the journey we tested "Stake £ Get Free Spins". Users find it easier to understand the promotion and to know what was the next expected actions.
We, now, need to examine other promotion types and work carefully with the UI and Marketing to produce an aesthetic solution with a carefully wrote content.
Production should start in Q1 2019, and new KPIs will be measured.
Key tools and deliverables
Heuristic analysis report,

Usability testing report,
What have I learned from this project?
Promotions is a really delicate and complicated subject. While journeys are often broken and customers need to call Helpdesk for support, business still makes a lot of money and do not really see the need to change anything.
So many teams are involved that it is also quite complicated to get a general agreement. So to avoid any personal point of view and we used data to validate each decision made in the design process.
5
Face to face interviews